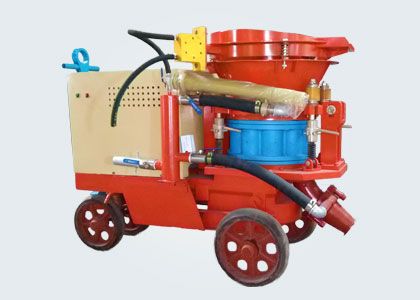 Before the construction of the concrete spraying machine, what problems should be paid attention to? Concrete shotcreting machine is a common type of concrete shotcreting equipment. Henan Yanli Shotcreting Machinery Factory will introduce the following issues before construction of the shotcreting machine.
1. The concrete shotcreting machine shall inspect the condition of surrounding rock in the working area before the shotcrete construction work, and wear and tear of parts that are easily worn. Problems will be solved in time. Before spraying, open the water after opening the wind, adjust the size of the wind and water, and then turn on the sprayer to spray the slurry. Spraying must use wet materials. When jetting concrete, the sprayer correctly cooperates with each type of work and process.
2. When the concrete sprayer sprays the slurry, the sprayer holds the sprayer in one hand, adjusts the water valve in one hand, and contacts the feeding material. Before the spray is sprayed, all the sprayed surfaces shall be sprayed with a thin layer of concrete. In this thin layer, spirally laps. The half circle is pressed to make a slow circular motion in the horizontal direction, and the diameter of the circle to be drawn is preferably 100 to 150 mm.
3, spray sequence of the concrete spraying machine is the first wall after the arch, bottom-up, first spray into a half-way, and then turn the spray nozzle spray the other half of the roadway, and finally close the top.
4. The concave and convex shall be concave at the serious part of the roadway, and serious gaps shall be taken.